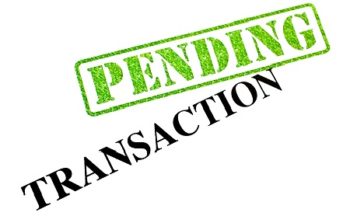 How long it takes for a house to go from pending to sold depends on who you talk to. On realtor.com it is synonymous with under contract. Many real estate agents, however, define it as the period after contingencies are met. In this case, it is the final few days while lawyers and/or title companies complete their paperwork. In the latter case, it does not take long for a house to go from pending to sold.  
A contract pending is in the final stages when the attorneys and/or title company draw up the documents to sign, so it does not take long to close. 
A contract pending can fall through, but it is rare. 
Pending to active means that the contract did fall through, and the seller actively markets the house again. 
The under-contract period typically lasts 30 – 60 days with a mortgage. Cash buyers, often, can close on a property in as little as 10 days (about 1 and a half weeks), however. The pending period is the final phase of the process, and it gives the lawyers and/or title company the opportunity to crunch the final numbers and make sure that the documents are in order. This usually takes no more than three or four days. 
House Under Contract Pending How Long to Sold
Many people wonder how long a house under contract will stay in pending status. A house in this status usually closes quickly unless there is a major unforeseen problem that appears even after all contingencies are met. After the buyer and seller resolved all clauses in the contract, the process moves into a period when the attorneys or title company draw up the final documents to sign. This usually does not take more than three or four days. 
Pending Vs. Under Contract 
A house does not stay in pending status because the two parties met the contract's contingencies. In real estate, the difference between a contract pending and under contract is how far along the deal is in the process. For most agents, there is a significant dividing line between the two.  
Under contract means the seller accepted a deal, but it has contingences  
A pending home sale means, the parties addressed all contingencies and are ready to close  
Total Mortgage says that these are common distinctions, but agents in different areas may not use the same distinctions. If you are unclear, you should ask the agent you work with. They can explain your local market. 
Pending to Close Timeline 
The timeline for a real estate contract to go from pending to closed is fast. The common starting point is when the appraisal comes back. This usually is the last hurdle for a buyer to get a mortgage. Zillow has a good list of what to expect after this: 
Get homeowner's insurance and title insurance (1 day) 
Get loan approval, often called clear to close (1 day) 
Do a final walk through (1 day) 
Attend the closing and sign all the paperwork (1 day) 
Many people do the walk through on the day of closing, so this process usually takes about three days if there are no problems.  
Can a Pending House Fall Through? 
While a house in pending status should close quickly problems may arise where the deal falls through, though this rarely happens. Problems with the mortgage, title, or the property itself may still derail a real estate transaction at the last moment.  
Why would a House go from Pending to Active? 
A house goes from pending status to active if the deal falls through. While this is rare, major problems can arise at the last moment. Some of these include: 
There is a cloud on the title. These problems do come up, and they are important. Often, they may kill a deal. 
The mortgage company finds a problem with the buyer's assets or income.  
There is an unexpected problem when the buyer does their final walk through. 
Common title clouds include liens and wrong or misspelled names. Usually, the seller can clear these up quickly, but occasionally, there is a major problem with the title. Mortgage issues may arise as well. These often include a last-minute purchase (like a car) or the buyer lying about income or assets. Finally, once a house is empty of furnishings the buyer sees hidden problems. Holes in the walls or flooring problem are common. Sometimes these are so severe it derails the deal at the last moment. 
What Percentage of Pending Sales Fall Through? 
A small percentage of pending sales fall through. It is impossible to know an exact number because no study has differentiated between under contract and pending listings. The latest comprehensive number comes from Trulia back in 2016. For that year, 3.9% of under contract deals did not close. that number was up from 2.1% in 2015, and there is evidence that it continues to rise. The three biggest reasons are: 
Inexperienced (first time) buyers struggle with the process 
Changes in a buyer's financial situation (usually losing a job) 
The seller's house sale contingency (need to sell one house to buy another one) 
Some anecdotal reports indicate that the percentage may be as high as 9% during the pandemic. These numbers only indicate the number of under contract deals that fall through. The subset pending is more ambiguous. Certainly, it is a small fraction of that 3.9%. All three of the major causes show up earlier in the process. While no one has an exact percentage, it is reasonable to assume that only a fraction of 1% of deals that have all contingencies satisfied do not close. 
During the years that I sold houses I never had a pending sale not close, but I had many under contract agreements that did not pan out. Colleagues of mine had sales that fell apart at the closing, but I only heard of a handful. 
Pending to Active (Not Sold)
While it should not take long for a house to go from pending status to closed, sometimes a deal falls through and the property goes back to active. Different platforms show this status change in distinct ways.  
Realtor 
On Realtor.com pending and under contract are synonymous. If the realtor needs to put a house back on the market, they simply change the status back to active in the Multiple Listing Service (MLS). Once they update the MLS its seamlessly updates realtor.com in real time.  
Trulia 
Trulia works much the same way as realtor.com. An agent simply changes the status in the system, and it automatically updates any other platforms that Trulia connects with. 
Final Thoughts on How Long for a house to go from Pending to Sold
How long does it take for a house to go from pending to sold? Not long, usually about three or four days. While it usually takes 30 – 60 days for the entire under contract period to progress once the due diligence period is over the closing is usually imminent. 
Deals can fall through, however, even at the last moment. Most often, this happens because of a last-minute change of finances, like losing a job. It can also happen because of a major disagreement because of an issue that arises during the walk through.