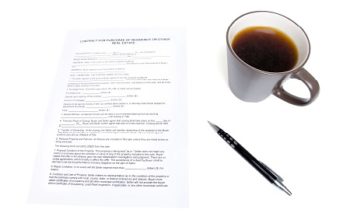 Due diligence in real estate is basically doing your homework before you enter a binding contract. While most people think of it as the under-contract period for residential deals, it really begins with you learning the process and finding competent professionals to help you. You should: 
Get a checklist to follow the process 
Be diligent about your financial obligations right up to closing 
Execute all the contingency clauses in the contract thoroughly 
Keep the seller's emotions and attitude in mind when negotiating clauses in the contract 
You need to learn the process and timeline for property transactions in your area. This will probably be the largest purchase of your life, don't just blindly follow others' instructions. Be an informed consumer who won't let anybody take advantage of you. 
Due Diligence on a Property 
Due diligence in real estate on a property begins with you learning the issues and processes. Property Metrics has a comprehensive checklist that may be a good place to start.  
Pick a good agent to help you through the process 
Learn the important contingencies within the contract 
Make sure you hire competent professionals for each stage of the process 
Buying a house is a complicated process. Make sure that you understand the parts of the contract, vet the professionals you hire, and stay on top of all developments along the way. 
What should I expect? 
During due diligence in real estate, you should expect a smooth process that will take about a month. Major problems do come up, but they are rare. In fact, more than 90% of real estate contracts go through and close. 
Inspection of the structure 
Financial information examination 
Title search 
Residential sales include these elements. Commercial and industrial transactions will include other, more complicated clauses as well. These may include a study of legal commitments, a review of management.
Checklist 
A due diligence checklist includes items that you should take care of at each stage of the sale. Since it is a complicated process, you should have your own idea about what items you need to take care of when. Depending on your situation you need to include different things, you may want to: 
Rent a residential property 
Buy a residential property  
Rent a commercial property 
Rent an industrial property 
Buy a commercial property 
Buy an industrial property 
Residential sales are the easiest types of transactions, so you should start by looking at a good residential checklist. Add appropriate topics according to the type of property you are interested in.1  
Due Diligence Clause 
A due diligence clause is a section of a contract that allows the buyer to ensure that there are no major problems with the property. Both residential and commercial contracts include these clauses, and they are important because:
They ensure the value of the property 
They allow for inspections for any hidden defects 
Buying a home is complicated, and these clauses help make sure that your investment is reasonable.2  
Is Due Diligence in Real Estate Required? 
Due diligence in real estate is not required, but we highly recommend that you take the time to learn the process and stay on top of each issue that arises. Never go into any large transaction blind. Make sure you always get as much information as you can about the home before you make an investment.  
Types of Due Diligence in Real Estate
Types of due diligence for residential properties protect you and your lender from making a bad deal. They include: 
Home inspection 
Title search 
Appraisal 
Financing 
These are standard in almost all residential real estate contracts. You may add a home sale contingency or other tests such as radon or mold inspections, which would be part of the home inspection. Commercial and industrial have much more involved clauses for management, financials, and structural issues.3  
When Due Diligence Ends 
After due diligence ends, the sale is pending. When you buy your home, the deal is almost done. Two groups still prepare paperwork for the closing: 
Mortgage company 
Title agency 
These finalize the paperwork with dates and other details, such as actually scheduling a closing date that all parties can attend. This usually takes a week or less.  
Buyer's Due Diligence in Real Estate
Due diligence when buying a house is making sure you understand the process and executing each contingency efficiently so your house closes on time.  
Before you even start looking for a house make sure you understand the process in your area 
Find a competent realtor that you trust 
Vet your mortgage company. Really shop around and make sure you have the best deal for you 
Take the clauses in your contract seriously. Find competent professionals to help you with each clause 
There are usually four clauses in a typical residential contract, but you should be careful long before you sign a contract. You need to find a good agent and lender as soon as you begin your hunt for a new home. 
Seller Backs Out During Due Diligence 
A seller can back out during due diligence with a cause. The two main reasons are they can't find another house, and they get a better offer. Sellers, though, must be careful because they may want to, but they must have cause to. Three ways a seller may cancel a contract are: 
Seller added a home sale contingency 
The buyer can't adhere to the terms, such as securing a mortgage on time 
Buyer requests repairs the seller is unwilling to do 
A home sale contingency is by far the biggest deal killer from the seller's side.  However, if the seller really wants to get out of the contract, they can disagree to deal with any issues with the home inspection. If the buyer really wants the house, though, they may agree to not seek any repairs.4 
Final Thoughts on Due Diligence in Real Estate
For most people, A house sale is the largest transaction they will ever make. It can be a daunting, confusing process. Doing your homework before getting started is very important. There are two things you must do. Learn the process in your area.  
eve it or not the way property is sold varies widely from place to place. States have different laws and even local customs play a part in how different it can be from place to place. Second, shop around for all your professional services. Whether it is your real estate agent, mortgage company, title agent, or home inspector, vet them and make sure they are the best available. 
References