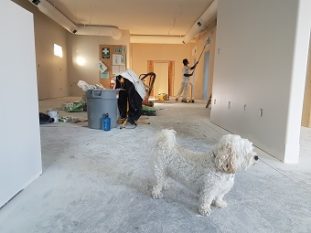 What issues should you know about before you buy a house as-is? In all cases, sellers offer the property in its present condition. Even if the seller is willing to fix problems or offer credit for issues it is all a negotiation. This article deals with a few questions you may have about buying a property in a take-it-or-leave-it condition: 
What does this term mean? 
What should you look for? 
Are there legal issues you should know? 
These transactions should not frighten you away if you are buying a home, but you should be careful and make sure that you learn all of the issues associated with the property before you buy it. 
What does It Mean When You Buy a House As-Is? 
The seller will not make repairs to the property when you buy a house as-is. While this seems like a frightening proposition it really is nothing to worry about as long as you do your homework.  
There may be a significant and/or expensive problem with the property
There may be a special reason for selling the house 
In either case, you need to learn as much as you can about the home. The best way to ensure that you know any structural problems is by getting a home inspection. While there may be significant problems, properties that sell usually sell below market prices. For a savvy buyer, a home offered in its present condition can be a very good deal.1 
Property Condition 
As-is condition in real estate means that the seller will not make any repairs to the property. You risk large undisclosed problems when you purchase a house this way. The owner may hide them or simply not know about them. You should get a home inspection to: 
Gather as much information about structural problems with the home 
Determine a budget for dealing with any issues that arise 
Knowing all of the issues will help you decide if the price is fair. It will also help you budget for repairs that you need to make after you close. 
Reasons for Selling 
A homeowner may have several reasons to sell his/her home as-is. While the owner may sell the house in its present condition because he/she can't or won't deal with any structural issues, he/she may have other reasons. 
The bank may own the it
The owner may have died or become incapacitated 
In either of these cases, the sellers won't want to deal with any issues associated with the property. In addition to these reasons, there can be many cases where a seller won't be able to fix any problems. The home may be in good shape, but the seller has to sell it.  
What to Look for When You Buy a House As-Is 
There are several things you should look for when you buy a house as-is. Houses are complex structures, and they may have many obvious or hidden issues that you might encounter. 
Structural problems 
Faulty roof 
Chinese drywall 
Termites or other wood-destroying insects 
Non-functioning systems 
Mold or mildew 
Asbestos or other harmful materials 
This is not an exhaustive list of problems that may exist. Whether you know how to identify these problems it is still a good idea to have another professional inspector look over the property before you close.2 
Without Inspection 
You may close on a property as-is without a home inspection. Some buyers think that they shouldn't do an inspection because the seller won't fix any problems or give credit for work that needs to be done. We do not recommend this decision.  
With Inspection 
Even if you purchase a property as-is you can still have a home inspection. You may overlook many things no matter how experienced or how thorough you are. 
A fresh set of eyes examining a structure is always good 
You may be emotionally about the property, and it may cloud your judgment 
An inspector may have up to date information that you may not know to look for 
A home inspection is costly, usually between $300 and $500. However, it may save you thousands because of the information it can provide. You must find a professional inspector who is current on structural issues. 
Mortgage Financing When You Buy a House As-Is
When you buy a house as-is you can still finance the property. Banks don't care how much money you need to spend to fix up the property. They only care about market value. 
Banks do not look at the home inspection 
Mortgage companies base their decision of how much to loan based on the appraisal 
These basic facts should guide you on how to finance your property. Banks not only make loans for houses sold as-is they even make loans that will roll the cost of repairs into the loan. 
Legal Definition of As-Is 
When you buy a house as is the legal definition is the seller will not make any repairs. The seller is offering the property on a take-it-or-leave-it basis. Sellers do this for a variety of issues. The bottom line, though, is that they want to get rid of the home without any complications. However, there are a couple of things you need to remember about legal issues associated with a take-it-or-leave-it transaction: 
It protects the seller from being responsible for unknown problems 
The seller must still disclose any known issues with the property 
Remember that even though the seller won't make any repairs or concessions, the buyer also has protections. The buyer has the right to obtain information about the condition of the house before the deal closes. 
Contract Clause 
Contracts typically include an as-is clause to protect the seller. As-Is clauses are common in real estate contracts precisely because it protects sellers. Why do they need these protections? 
Sellers may not know about some problems with the house.  
Buyers cannot seek money for unknown problems after the close 
For a buyer, getting a home inspection from a competent, professional inspector is very important. This is because the contract clause protects the seller, while the home inspection protects the buyer. 
Repair Warranty 
A repair warranty protects buyers from unforeseen costs after they close on a house. These programs offer repair and replacement services for systems that may go wrong within a house.3  
They are not insurance 
They may not cover repairs on equipment not properly maintained 
While these may seem like a good idea, we believe that a good inspector should find most issues that will arise with systems in the home. Beyond that setting up a rainy day fund is a better way to handle unforeseen problems. 
References