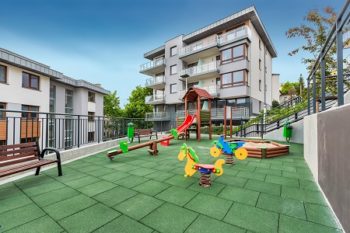 If you are a couple renting an apartment, then you will have a harder time finding a place if one has bad credit. The good news is that requirements change from one landlord to another, and in many cases you can negotiate. 
Once tenant must have good credit, but not necessarily both 
If one does not have good credit, then negotiate or find another place that will 
Do not let your partner's past mistakes deter you from looking for a place to rent. You may find that landlords are more flexible than you might imagine. Further, if one is not, then there are many options available. Some of them will be flexible. 
Do both people on the lease have to have good credit? 
Apartment Guide has a good article about whether both people on the lease must have good credit. Their conclusion is not necessarily. The two major considerations for most landlords are: 
Rental history 
Credit history 
In fact, some only look at past rentals when they decide. The process varies widely from location to location. Further, many will negotiate. Some will listen to personal explanations, others will allow a larger security deposit, and some ask for a co-signer. The point is, there are options if one of you has some dings on your reports. 
Do Landlords Combine Credit Scores? 
Like, mortgage companies, landlords do no combine credit scores. Generally, they are much more accommodating, though. If they are not willing to listen and negotiate, then you should simply try the next development. 
Do Both Tenants Have to Have a Credit Check? 
Landlords require credit checks for anyone who will be on the lease. It is too risky not to. Like we said before, though, there are places that only look at the rental history. Pocket Sense also reminds us that if you add a roommate later, then the landlord will run a credit check on them as well. 
What if I Have Good Credit but My Roommate Does Not? 
If you have good credit but your roommate does not, it is not the end of the world. You may have to shop around for a place that is more lenient with their requirements. The good news is that there are a wide range of options available. It is not nearly as cut and dried as mortgage companies. You may find a small investor who only owns a couple of units and personality is more important.  
On the other hand, you may look in a large development that is more rigid in their rules. Do not get discouraged. Keep looking around for the right fit for you.  
Final Thoughts About a Couple Renting, One with Bad Credit 
With so many options, renters really can find a place even with bad credit. You may have to put down a larger deposit, find a co-signer, or take time to explain some things on the reports. You also may have to go around to a few places to find one that is flexible. 
It is important that you get a copy of your reports and examine them before you set out to look. If you know what is in them and can explain them then you have a better chance. It is also better for you and the owner if you are up front about dings in your history.