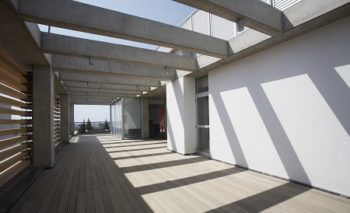 Common area maintenance (CAM) in real estate is a fee to keep up external improvements and structures for a property. It also includes services that benefit all the tenants in a building. They vary widely depending on the use of the building and the type of lease the tenant has. We will explore: 
What are common areas and exclusive common areas 
What are reasonable CAM charges 
It is important to note that this site focuses on residential real estate, and this article will focus not to focus on commercial contracts. Business leases are more complicated for a variety of reasons, but mainly because of the use of the property. 
Exclusive Use Common Area  
An exclusive use common area is designated by the CC&Rs for the exclusive use of one or more of the units within a development.  
Examples include windows, doors, patios, and balconies 
Impacts the maintenance responsibilities for that component 
Affects the rights of a tenant/owner to improve that component 
Depending on the covenants of the community the owner/tenant may have some responsibility for maintenance but only has limited ability to improve the area.1  
Common Area Maintenance Checklist 
A common area checklist should include operating, repair, and maintenance for these building components. Checklists typically include: 
Repair and maintenance or parking lots 
Snow and trash removal 
Janitorial and pest control services 
Security and landscaping 
Common area utilities, HVAC maintenance, and signage 
Landlord's administrative fees 
Capital expenditures generally are not included. The argument is that these costs are an investment in the property and not a part of its operation. However, some improvements directly benefit tenants, so a landlord may impose a special assessment for something like a new, more efficient HVAC system.3  
Are Balconies Common Areas? 
CAM in real estate does include the balconies. Homeowner Associations (HOAs) consider these and other structures because they face the outside. 
Limited common areas are assigned to the unit but considered common property 
Laws governing these may vary from state to state 
These elements are attached to the unit but face outward. HOAs include these in order to keep external appearances consistent and well maintained.2  
Typical CAM in Real Estate Charges 
Typical charges for CAM in real estate differ depending on the type of lease you have. Whether you are a residential tenant, an industrial client, a retailer, or have an office in a high-rise dictate what is included. All include: 
Signage, lighting, and water 
Landscaping and parking lot maintenance 
Since we focus on residential property, we will not spend much time on commercial contracts. Since they differ greatly, so do the fees for common areas and structures. Residential agreements assume that its best for professional management to take care of almost all outside and outward-facing repair and maintenance.4  
Does Cam in Real Estate include property taxes?  
Typically, the CAM does not include property taxes for residential, but it does for commercial tenants. Residential is much simpler. Commercial leases can get very complicated depending on the type of lease, as well as the use of the property. 
Are Cam charges negotiable? 
CAM charges are negotiable. In fact, almost anything is negotiable. Remember that you are negotiating a contract.  
The landlord may have a prepared contract to sign, which seems like you can't negotiate 
How much you can negotiate depends on market conditions 
Your emotions have a lot to do with how much you can move the landlord 
Landlords do everything they can to make it seem like you have no leverage to negotiate. Remember, though; it is a business and the bottom line is that they want to rent their units. If many units are empty you can negotiate more. If you treat it like a business arrangement and don't let your emotions get in the way you may be able to negotiate better. 
What are reasonable CAM fees? 
Typical CAM charges may seem unreasonable, but some fees are normal. A good way to decide if the fees are reasonable is to think about: 
Does the service benefit everyone in the complex, at least in some way? 
Is the structure on the outside of the building, or does it face outward? 
Is the structure completely internal to the unit? 
While these questions may not completely clear up a question you have about the reasonable nature of a charge, I hope they give you some perspective on what should be included in the fee. 
Final Thoughts on CAM in Real Estate
Common areas on the property seem like they should be straightforward. However, even for residential, it can get complicated. It is important to read and understand the contract and adjoining agreements before you sign. The best way to protect yourself from unreasonable charges is to understand what your agreement says.  
Finally, if you can't negotiate an article you think is unreasonable, walk away and look for another apartment or condominium to live in. 
References